This is a black and white line drawing of a crest used by William Orr of Coleraine, Co. Londonderry, as a quality seal on fine linen that he produced.
Click here for a link to the colour coats of arms.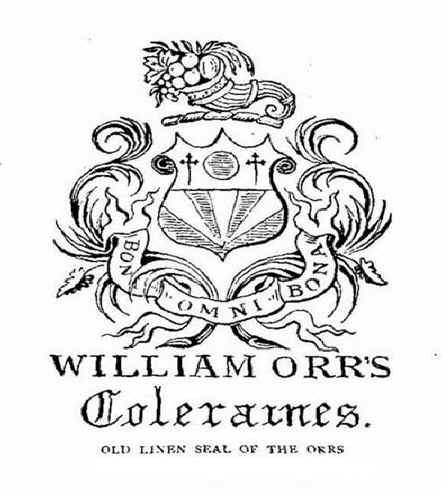 Other crests that have been used by Orrs






A Lion passant, proper, resting dexter on a torteau.





Out of a heart a dexter hand grasping a scimitar. " True to the end"
A variant on this is with a plain sword in the hand.




A Cornucopia, proper. Bonis Omnia Bona "To the Good, All is Good."





A Cornucopia. Virtuti Fortuna Comes " Fortune the companion of Virtue.
The crest of Sir Andrew Orr of Harvieston, Clackmannanshire.