Remembered with Pride

I I found the record for

Rifleman Harold Smith Orr on the Commonwealth War Graves web site. He was in the 1st Battalion, London Irish Rifles, Royal Ulster Rifles, and died aged 20 on 1 March 1944 on the beach at Anzio, Italy. He is buried at The Beach Head Cemetery, Anzio, plot XXII, A. 3.


His elder brother Charles, was at the time recovering from machine gun wounds received in Sicily 17-18 July at Fosso Boftacetto, on the Catania Road.
Charles was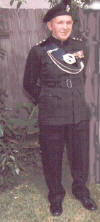 in the regular army having joined the Royal Ulster Rifles in 1934 and saw action in the Khyber Pass area of India (Waziristan campaign) - the North West Frontier, before going to Iraq, the Middle East, North Africa, Italy and

Europe during WWII. He survived the war and served then in post war Italy, Austria and West Africa before the conflict in Korea, The Ulster Rifles were the first British troops to arrive in Korea and the last troops to leave the encircled city of Seoul from which they had to fight their way out. The battle of Chaegungyon is remembered by survivors as "Happy Valley" in which 103 men were killed or died of wounds and 207 were taken prisoner. The Ulsters were then in the ferocious battle on the Imjin River in April 1951 when the greatly outnumbered regiment, along with the `Glorious Gloucesters`, 45 Field Regiment Royal Artillery, the Royal Northumberland Fusiliers and a Belgian regiment, fought off some 70,000 Chinese troops, mostly in close range and hand to hand fighting. Later service was in Hong Kong and BAOR (Germany). He served with the colours for over 21 years before taking a Commission, subsequently serving as a Captain in the Royal West African Frontier Force and retiring as a Captain Quartermaster. An interesting statistic is that he drew pay and rations, then his army pension, for a total of seventy five years, passing at the age of 95.

Another brother, Robert, served with the Royal Ulster Rifles (1939-1946). Tragedy in war can also strike at

the larger family unit as with Bobby, who had a brother in law, William Kane, KIA at Cambes Wood on 7 June 1944 with another brother in law, Alex wounded the same day.
Yet another brother, Samuel Orr, Sergeant, 40 Commando, Royal Marines was killed in Malaya, 27 December 1950. Further details of Sam`s death have come to light and his story is separately told .