The Ulster Pedigrees or

Ulster Pedigrees. Descendants, in many lines, of James Orr and Janet McClement who emigrated from Scotland to Northern Ireland ca 1607.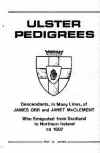 This excellent book by Ray A Jones (1977) has a Library of Congress Catalog reference No. 77-82468. There are copies about but they are becoming rarer. There is a copy in the LDS Library in Salt Lake City Catalog Reference: Call No 929.2415.Or7j; location JSMB British Book. It is also on fiche reference: FHL British Fiche 6036613.
It is a follow up on the work by Gawin Orr of Castlereigh (12 Jun 1756 - 7 June 1830 ) which is in the Linen Hall Library, Belfast. The author has added information from the Gravestone Inscriptions series (vols 1-12) and other data he compiled. It contains some 2,800 Orr connections although, unfortunately, it is sometimes rather short of dates.
A list of the families that intermarried with Orrs has been compiled. I am happy to do look ups. But please note the publication is still in copyright and I cannot therefore provide extracts of every possible link as that would mean copying every entry.